Ethereum completes London Hard Fork upgrade
Baby London concept is born
Fair Launched with no team air drops
Dev Doxxed live voice chat cam
Unrivalled Poocoin advertising campaign launched
$500k market cap achieved
20+ coin vote listing sites submitted
1k+ members in Telegram group
Discord group & YouTube channel created
Twitter influencers on board
$5million market cap achieved
Audit applications submitted
Baby London rewards tracking dashboard created
Additional developers doxxed
Media marketing companies on board
Live streamed interviews & AMA's with top developers and influencers from across BSC
Further partnerships with Youtube, Twitter, & Tiktok influencers
Coin Telegraph, Yahoo! Finance & MarketWatch articles posted
Baby London Merchandise Shop
Piccadilly Circus London Billboard campaign
Secret London marketing campaign
$100 million market cap achieved
Cryptocurrency platform with charting, trading and scam advisory service.
Platform safe dex, launchpad and self sustaining revenue streams.
Mainstream Ethereum ecosystem partnerships
$500+ million market cap achieved
Much more to come in the future
DASHBOARD
Creation of our customized Dashboard with our holders interest and safety in mind.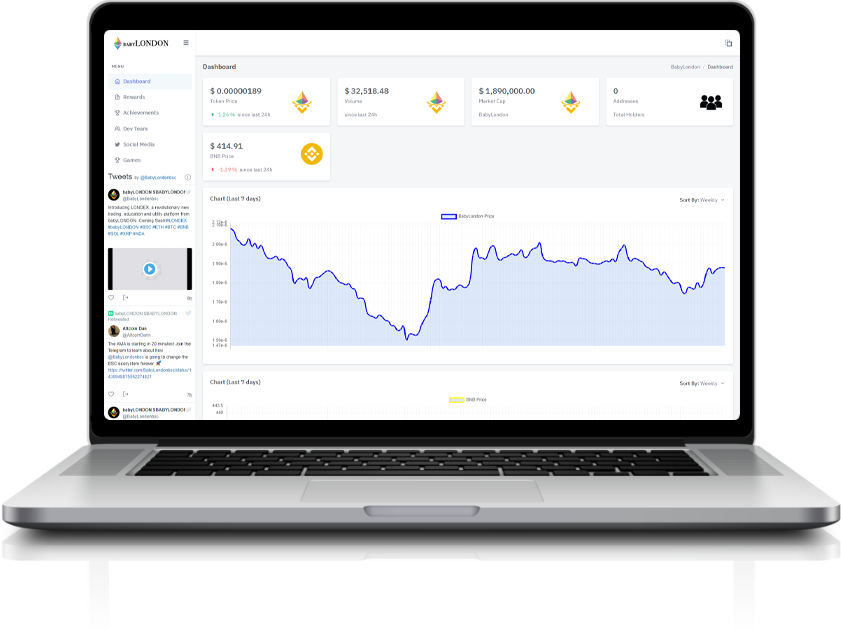 Join us in our Journey to make BSC a Safer place.
baby london